Throughout his lifetime, Pablo Picasso moved in and out of many social circles. His closest friends included some of the greatest creative minds of the early twentieth century. Many of the works in Picasso: The Artist and His Models highlight how the artist's personal relationships not only influenced his compositions but also helped steer the ever-changing course of his career.
Between 1911 and 1914, Albert Gleizes and Jean Metzinger continued the development of the Cubist movement Georges Braque and Pablo Picasso initiated just a few years prior. In 1912, Gleizes and Metzinger published the influential "Du Cubisme," which was the first major treatise on the subject. Unlike Braque and Picasso, who worked on a relatively small scale during the early 1910s, Gleizes and Metzinger preferred to develop their complex imagery on a larger scale in bold, vivid colors. They were also not as concerned with pursuing the pictorial implications of breaking-up form and space and remained closer to a faithful representation of the subject.
Gleizes was primarily interested in portraying the human figure in relationship to the landscape, and in this painting he took this notion a step further by merging the two with elements of the still life. The figure holds a book by poet Alexandre Mercereau (French, 1884–1945), who introduced Cubism to Eastern Europe through a series of exhibitions in Moscow and Prague. Gleizes was familiar with Mercereau's work and previously collaborated with him and others in the founding the Abbaye de Crétail, a utopian artistic and literary community in a suburb of Paris. The "man in the hammock" is quite possibly a self-portrait.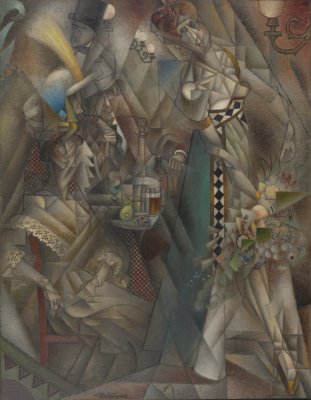 Metzinger's Dancer in a Café captures the social mood and tempo of Paris prior to World War I (1914–18). This painting also testifies to Metzinger's awareness of the Italian Futurists, who were exhibiting in the city during the time this work was created. The jerky staccato motion suggested by the dancing figure, which was new to Metzinger's work, reflects the influence of the movement.