Mori on Wright: Designs for Frank Lloyd Wright's Martin House Visitor Center
Friday, October 17, 2003–Sunday, March 14, 2004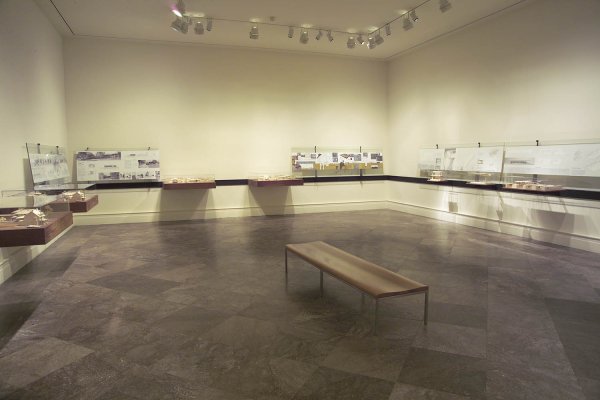 1905 Building
Mori on Wright was an installation of models by the five architectural firms competing to create a new visitor center that is a worthy 21st century companion to Frank Lloyd Wright's Martin House Complex, 1903–1906. It chronicled the evolution of the chosen architectural scheme and showcased Toshiko Mori's winning design.
On November 8, 2003, the museum hosted a symposium entitled "History's Future: Continuity and Invention in Contemporary Architecture." Five renowned architects, each of whom designed a proposal for Frank Lloyd Wright's Martin House Complex, discussed issues of inspiration and integrity when working in historically significant contexts. Panelists included Stephen Cassell, Brian Healy, Toshiko Mori, Warren Schwartz, and Nader Tehrani, with Joseph Giovannini acting as moderator.
Robert McCarter, Frank Lloyd Wright scholar, practicing architect, professor of architecture at the University of Florida, and nationally renowned author of Frank Lloyd Wright and Louis I. Kahn gave a special lecture at the museum on February 29, 2004. He spoke on "The Fabric of Experience: Woven Space in the Work of Wright and Mori."
This exhibition was co-organized by the Albright-Knox's Associate Curator of Contemporary Art Claire Schneider; the Martin House Restoration Corporation, Buffalo, New York; the School of Architecture and Planning, University at Buffalo, The State University of New York; and curated by Chair of the Department of Architecture at the University at Buffalo Kent Kleinman.