Francesco Clemente
Saturday, November 15, 1986–Sunday, January 4, 1987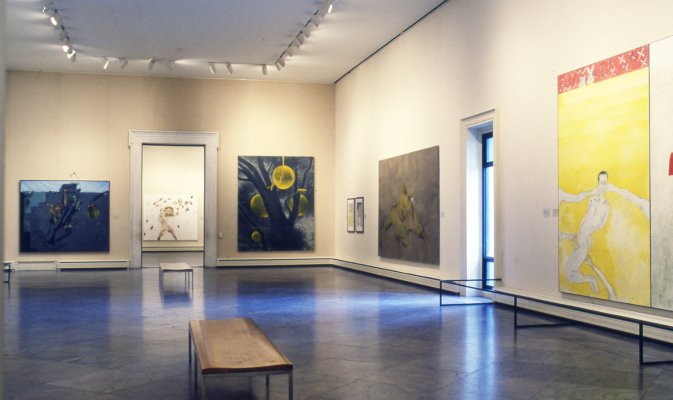 1905 Building
This first solo exhibition of Francesco Clemente's art in the United States surveyed the prodigious body of work created by the artist between 1979 and 1983. It included sixty-five of the artist's works, which are often autobiographical and express his itinerant way of life and his concern for freedom of expression. Born in Naples, Italy, in 1952, Clemente interweaves the history and mythology of his native land, as well as mutated life forms and other fantastic imagery from his own psyche, into his work. He achieved international acclaim as part of the Neo-Expressionist movement in the 1980s, which emphasized an expressive return to addressing the human condition, often through painted depictions of the body.
Francesco Clemente traveled to the John and Mable Ringling Museum of Art, Walker Art Center, Dallas Museum of Art, Berkeley Art Museum and Pacific Film Archive, and the Museum of Contemporary Art in Los Angeles. 
This exhibition was organized by Chief Curator Michael Auping.
Exhibition Sponsors

This exhibition was made possible with public funds from the National Endowment for the Arts.